JOYO JF-314 Husky Drive Overdrive Ironman Mini Guitar Effects Pedal
The JOYO JF-314 Husky Drive is an excellent overdirve pedal that is one of our best sellers. It has two operating modes, high & low. The low mode is more open sounding and is less compressed than the high setting. The High setting has more compression, a little more gain avaialble and is a bit thicker sounding. The Husky Drive is capable of great low gain bluesy overdrive to thick heavy harmonic laden drive. You'll never find it hard to get whatever tone you like out of the Husky Drive.
The Husky Drive pedal is based on the JF-02 Ultimate Drive pedal from our first series of pedals which in turn is based on a very famous overdrive circuit that some people get quite 'obsessive' over (sorry)!
The Husky Drive also came in 4th place in Music Radars best pedals of 2015 http://www.musicradar.com/news/guitars/the-10-best-guitar-effects-pedals-of-2015-631817.
 Have a read for yourself and see what all the fuss is about, you won't be dissapointed.
The JOYO JF-314 Husky Drive Overdrive Mini Guitar Effects Pedal is just gives you nice FAT sound. Many of us mere mortals will never get to appreciate the wide throbbing sound of a power amp distortion and that is where the Husky drive will shine. Giving you the sound of power amp distortion without any flabbyness right at your feet. The husky drive will give you the fatness and overdrive of a power amp at full blast. Voted a Best Buy with 5 stars by Total Guitar Magazine..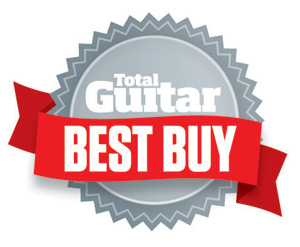 .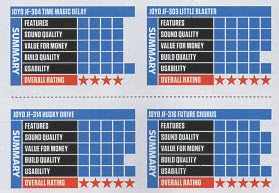 JOYO JF-304 Time Magic Delay ****
JOYO JF-303 Little Blaster - Distortion BEST BUY *****
JOYO JF-314 Husky Drive - Overdrive BEST BUY *****
JOYO JF-316 Future Chorus BEST BUY *****
All of the same beautiful overtones you can get from a tube amp pushed to the edge, are now easily dialled in at your fingertips with this little pedal. The HIGH and LOW switch makes it a truly flexible stomp box.
 Use it direct into a mixing console, audio interface or in front of an amp.
Controls:
Tone
Gain
High Peak / Low Peak switch
Volume
Specifications:
True By Pass
Input Impedance: 1m
Output Impedance: 10k
Running Current: 25mA
Power: DC 9V negative polarity adapter, not supplied.
Dimensions :
7.3cm long
4.3cm wide
5 cm tall.
Weight : 220g